CREATIVE REUSE LAB
Social Practice
Victoria Square Project Athens, Greece 2018-2019
Creative Reuse Lab, organized and curated by Maria Juliana Byck, took place over nine months, during the course of which weekly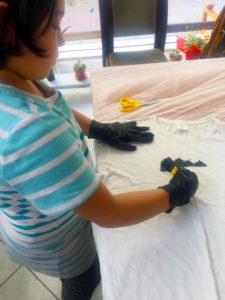 sustainable arts skillshares were held. The Lab was a convergence between arts, fashion, knowledge exchange and community building in Athens, Greece. Fostering a social and creative network with a focus on sustainable living through skill shares in circular design strategies for textile, paper, waste, food and jewelry.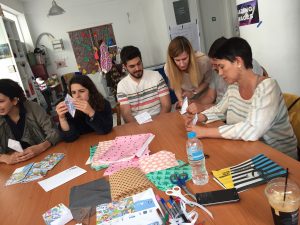 A collective platform for creative expression through individual designs and developing meaningful ways to present sustainable alternatives to fast fashion to a larger audience.
This project brings together methodology and theory in creative reuse as a means of addressing waste, pollution and exploitation in the global textile industry. The goal is to foster a social support network to share skills in textile arts from a diverse range of cultural traditions, disseminate best practices in creative reuse and recycling textile waste, educational outreach and social interventions to call attention to the importance of living more sustainable lives is a chance for people to share their talents, creativity and resilience.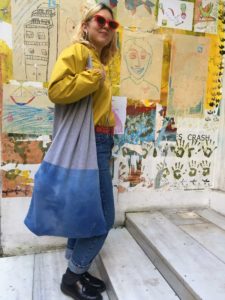 The
project harnesses the possibility for greater collectivity through communication and care, in an increasingly polarized political and economic moment. With tensions created through perceived scarcity of resources and lack of economic opportunities, the creative reuse project engages in imaginative and restorative ways of being together. The project is a form of action which positively affects entrenched social structures and is developing the network of relations and methodology for a sustainable collaborative future.
A partnership between Victoria Square Project and Khora Freeshop facilitated a monthly gathering to exchange clothing and promote used clothing as fun, hip and sexy with a popup DIY fashion shoot.
Second Sunday Swap at Victoria Square Project
editing, video and sound: maria juliana byck
additional photographs: dorothea kritikou